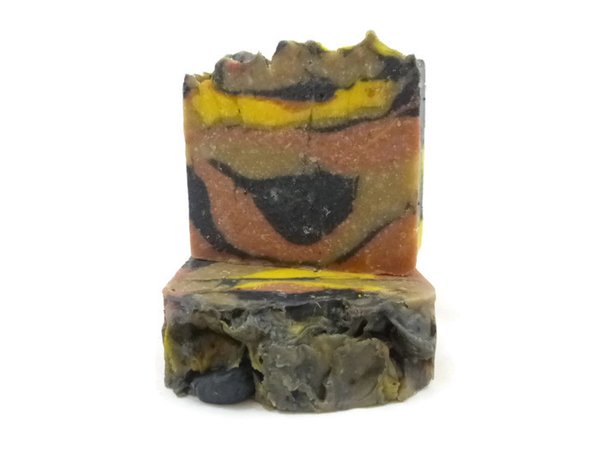 A Multi-Clay Experience
********************DISCOUNTED 30%********************
Our sudsy multi-clay bar contains activated bamboo charcoal, Australian pink + green clays, espresso, raw cane sugar to nourish, deeply cleanse, detoxify, exfoliate + moisturize your skin.

Beeswax forms a protective barrier on the surface of the skin against irritants while allowing the skin to breathe; offers anti-inflammatory, antibacterial + antiviral benefits. When added to skin care products, beeswax is an emollient + humectant, drawing moisture to the skin + sealing it in.

Activated Bamboo Charcoal detoxifies, is antibacterial, deep cleansing, extracts toxins from beneath the skin, heals acne, blackheads + bumps; moisturizes, creates smooth skin, eliminates + prevents body odor.

Australian Pastel Pink Clay gives a youthful appearance with ultimate hydration + skin firmness; is perfect for balancing the most stressed + sensitive of skins; it's hydrating properties help to refine delicate lines, moisturize + improve the overall texture of the skin.

Marigold Flowers are used extensively in aromatherapy to treat eczema, scars, cracked skin, rashes, inflammation + viral infections and has antiseptic, stimulant + antifungal properties.

Sunflower Oil has high amounts of Vitamins A, B, D + E, minerals, lecithin, insulin, unsaturated fatty acids, and by all accounts is good for the skin.
100% handmade using the cold-process method.
Listing is for 1 bar.

Before using read the ingredient list for allergens + sensitivities; patch testing is suggested.
For external use only. Avoid getting in eyes.
This soap exfoliates to remove dead skin cells.
If using on face, follow with a facial moisturizer including sunscreen.
Ingredients: distilled water, extra virgin olive oil, coconut oil, sunflower oil, food-grade sodium hydroxide, wheat germ oil, mango butter, safflower oil, beeswax, palm kernel oil, sodium lactate, castor oil, raw cane sugar, espresso beans, activated bamboo charcoal, blue green algae, spirulina, chlorella, Australian olive green clay, corn meal, Australian pastel pink clay, glycerin, color + fragrance.
avg net wt 7.6 oz (215.456 gr)

J. Lexi, LLC
Uncommon Beauty
For external use only.
Our products have not been reviewed by the FDA + are not intended for use in the diagnosis, cure, mitigation, treatment or prevention of disease.

.
Reviews
Featured Products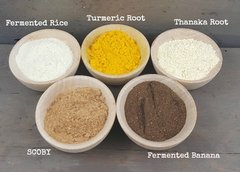 Probiotic Luxury Spa Products Class
$125.00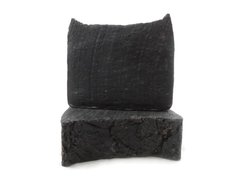 Chaga + Cacao
$15.00