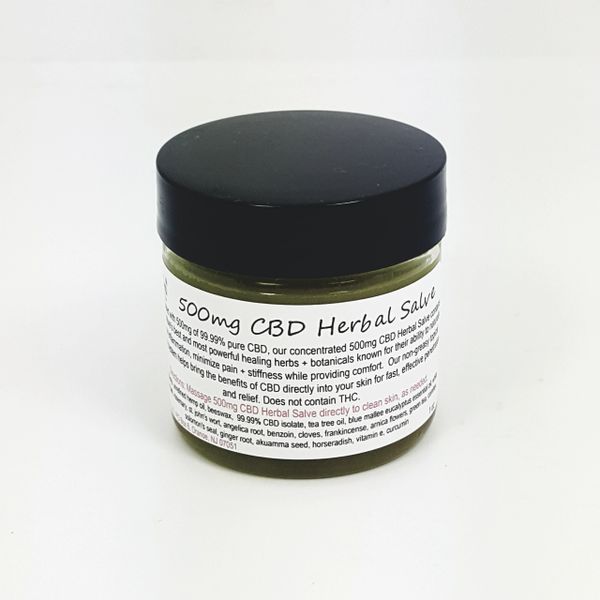 500mg CBD Herbal Salve
500mg CBD Herbal Salve . . .
is a light vegan approved beeswax-free balm made with 99.99% pure CBD Isolate. THC-Free, our formulation includes unrefined hemp oil, extra virgin olive oil, 17 herb proprietary-blend known to reduce + provide relief of inflammation, stress, pain + anxiety, vitamin e and essential oil blend.
Created to easily penetrate + be absorbed topically into skin, our herbal blend delivers fast + effective relief.
Comes in a glass jar.
1 oz (28.34 gr)

 Anhydrous Hemp Oil is a non-psychoactive phytocannabinoid-rich extract derived from hemp plants mainly for medical use. Our pharmaceutical-grade extract is non-psychoactive, pharmaceutical grade non-GMO 99.99% pure CBD isolate that has been lab tested + confirmed to contain 0% THC. CBD is a cannabinoid widely studied for its therapeutic benefits, such as its anti-inflammatory, analgesic + anti-aging properties.

 95% Curcumin is a key chemical in turmeric said to be a natural anti-inflammatory + antioxidant compound. Claims: Reduces pain, inflammation and stiffness related to rheumatoid arthritis (RA) and osteoarthritis (OA); treats bursitis + is known as a cleansing agent.

 Piperine helps the body absorb curcumin.

 Willow Bark has been used for centuries as a pain reliever with salicin as the active ingredient; has been used as an alternative to aspirin, particularly those that experience chronic headaches or back pain. 

 Cloves contain a compound called eugenol, known for its antibacterial properties; helps relieve + reduce stress, is an excellent pain reliever for muscles + joints.

 Cat's Claw helps to reduce joint pain.

 Akuamma Seed is a West African herbal medicine traditionally used as a pain reducer with analgesic + anti-inflammatory benefits.

 St. John's Wort is said to provide emotional support, physical tension + pain.

 Ginger Root may help reduce pain and inflammation.
Directions: for targeted relief, massage a tiny bit of 500mg CBD Herbal Salve into your pain spot with the ball of your fingers. Inhale the tea tree + eucalyptus essential oil blend.
Ingredients Include: unrefined hemp seed oil, extra virgin olive oil, anhydrous hemp oil, vitamin e, essential oil blend.
net wt 1 oz (28.34 gr)
~~~~~~~~~~~~~~~~~~~~~~~~~~~~~~~~~~~~~~~~~~~~~~~~~~~~~~~~~~~~~~~~~~~~~~~
Our luxury products do not contain lard, fillers, foaming agents, thickeners, parabens, phthalates, surfectants, synthetics enhancers or other nasties.
Using the bounty of nature, we create skin-loving recipes to nourish your hair, face + body! At J. Lexi, LLC we believe ingredients are best as nature created them.   Our holistic natural products are made in small batches + contain a combination of fresh, raw fruits, vegetables, probiotics, herbs, botanicals, vitamins, proteins, minerals, superfoods, amino acids, natural moisturizers + more. Our real skin food products help beautify + promote healthy, glowing skin!  Using unique + uncommon ingredients, the goal is to help you achieve a hydrated, exfoliated, moisturized, even-toned + blemish-free complexion.
J. Lexi, LLC
Uncommon Beauty
For external use only. 
Our products are not intended for use in the diagnosis, cure, mitigation, treatment or prevention of disease.
Reviews
Featured Products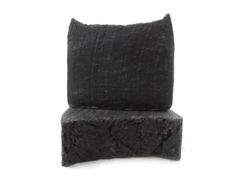 Chaga + Cacao
$15.00
Adzuki Cleansing Grains
$15.00