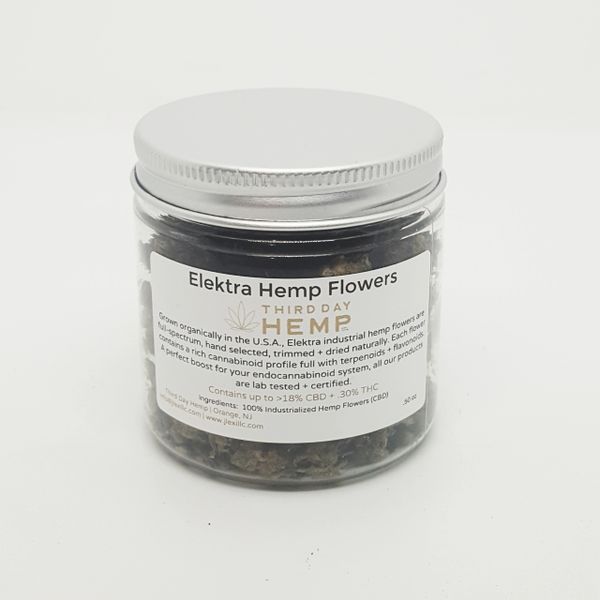 Elektra Flowers (CBD)
Elektra Hemp Flowers (CBD) . . .
Industralized Hemp Flowers is a designer strain of hemp flowers grown organically in the U.S.A. our help flowers are hand selected, trimmed + dried naturally. Each flower contains a rich cannabinoid profile with full terpenoids + flavonoids. Elektra is a perfect boost for your endocannabinoid system, all our products are lab tested + certified.
CBD is said to help relieve pain, reduce stress + anxiety, promote rest + relaxation, minimize inflammation and calm + soothe.
Use these hemp flowers to make tea, roll into cigarettes, 'nfuse in oil to Design it Yourself (DIY) salve or tincture, bake in brownies  . . . the uses are endless. Remember our hemp flowers will not get you high + they're legal in all 50 states.
We offer both trimmed buds and bio-mass; bio-mass is untrimmed and includes more stems.  The stems are great to use for tinctures and to add to coffee or tea.
Available sizes: 1/2 oz (14.17 gr) and 1 oz (28.34 gr)
It looks like marijuana, it rolls like marijuana, it smokes like marijuana, but it contains less than 0.3 percent of Delta 9THC, meaning you will not get high. Though you will be able to enjoy all the benefits of Hemp CBD. 
This day was thought to be a long time coming – to develop an industrial hemp flower that contains over 18% CBD while also complying with the 2014 Farm Bill, by containing 0.3 percent of Delta-9 THC. Since our strain of hemp flowers looks so much like regular marijuana a police officer might mistake it for marijuana, which is still illegal in many states as well as at the federal level, and we do not want anyone to get arrested over this.  So because of this chance of confusion, with each bag of hemp flower, we include a message to law enforcement, about the product, as well as a copy of the current lab reports, showing that the batch from which your hemp flower was taken satisfies the federal government's legal definition of industrial hemp, making it perfectly legal to use and possess in all fifty states.
Here is the text of the notice to law enforcement which accompanies every order: 
Notice to Law Enforcement Authorities
:

This ELEKTRA HEMP CBD Flower is in compliance with the Agricultural Act of 2014, 7 U.S.C. §5940 (2014 Farm Bill), pursuant to pilot programs lawfully established under 7 U.S.C. §5940 in conformance with California Food and Agricultural Code, Division 24, §81001, et seq., and Nevada Revised Statutes §557.010, et seq. California and Nevada's respective Departments of Agriculture have certified, registered, and regulated the growing of our industrial hemp in conformance with federal and state laws, rules, and regulations. Federal law, in particular, 7 U.S.C. §5940(b)(1), entitled "Legitimacy of Industrial Hemp Research," encourages growing, cultivating, and marketing industrial hemp products pursuant to these pilot programs, and by the rights and protections thereby established, Third Day Hemp proudly offers this legal industrial hemp flower high in cannabidiol (CBD) in the United States.

According to 7 U.S.C. §5940, the term "industrial hemp" means the plant Cannabis sativa L. and any part of such plant, whether growing or not, with a Delta-9 tetrahydrocannabinol (Delta-9 THC) concentration of not more than 0.3 percent on a dry weight basis. Only the Delta-9 THC level is relevant, not the total THC. As shown in the Certificate of Analysis (available upon request) by Analysis Consulting, 3262 S. Platte River Drive, Englewood, CO 80110, Laboratory Number 201810-0285, this hemp flower has a Delta-9 THC level on a dry weight basis equal to 0.153 percent, well below the 0.30 percent maximum level and, therefore, this flower is hemp, not marijuana, and is perfectly legal to possess. This right applies in any state pursuant to the Full Faith and Credit Clause, Article VI, Section 1 of the Constitution, the Supremacy Clause, Article VI, Section 2 of the Constitution, and the Equal Protection Clause, Section 1 of the Fourteenth Amendment.
We suggest you do not flaunt this product or smoke it in public, although it would be your legal right to do so, we also advise that you keep with you the included lab reports, and note to law enforcement, just so you can prove your hemp flower's legality, if the need ever arises. 
For external use only. 
Our products are not intended for use in the diagnosis, cure, mitigation, treatment or prevention of disease.
Reviews
Featured Products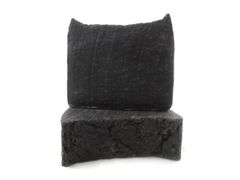 Chaga + Cacao
$15.00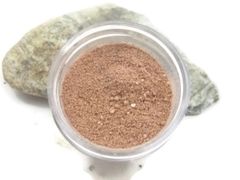 Adzuki Cleansing Grains
$15.00