Even Tone Body Bar w/Salicylic Acid
Even Tone Body Bar w/Salicylic Acid
Even Tone Body Bar with Salicylic Acid is a vegan-approved, fragrant + exfoliating body bar. Salicylic Acid exfoliates to remove dead skin cells + reveals a healthy, beautiful + even-toned complexion.

Raw Sweet Potato is antibacterial, soothes inflammation + removes excess oil.

Raw Cane Sugar conditions + moisturizes skin, is a natural exfoliant; does not clog pores; helps eliminate blemishes; restores balance to skin's oils + is used to maintain healthy skin.

Glycolic Acid penetrates skin; clears debris + unclogs the pores; breaks down dead surface skin cells to produce a more radiant + even skin tone. The glycolic acid we use is formaldehyde free + formic acid free.


Unrefined Cocoa Butter treats dry chapped skin + acne scars, reduces the appearance of fine lines + wrinkles; helps prevent skin damage; helps with skin's elasticity + treats psoriasis + eczema.

Walnut Shell Powder exfoliates + polishes skin.

Salicylic Acid exfoliates skin; encourages cell turnover + healthy skin; unclogs pores; stimulates collagen; and reduces the depth of lines, wrinkles + the signs of aging.
100% handmade using the cold-process method.
Listing is for 1 bar.

Before using read the ingredient list for allergens + skin sensitivities; patch testing is suggested.
Avoid getting in eyes.
This soap exfoliates to remove dead skin cells.
If using on face, follow with a facial moisturizer including sunscreen.
Ingredients: extra virgin olive oil, distilled water, castor oil, sweet potato, corn oil, coconut oil, food-grade sodium hydroxide, unrefined cocoa butter, palm kernel oil, fragrance, sodium lactate, raw cane sugar, salicylic acid, glycolic acid, dl-panthenol 100, jojoba beads, walnut shell powder + allantoin
avg net wt 6.4 oz (181.437 gr)
J. Lexi, LLC
Uncommon Beauty
For external use only.
Our products have not been reviewed by the FDA + are not intended for use in the diagnosis, cure, mitigation, treatment or prevention of disease.
Reviews
Featured Products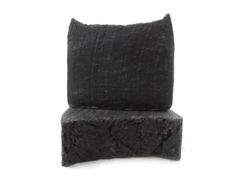 Chaga + Cacao
$15.00
Adzuki Cleansing Grains
$15.00