Even Tone Facial Serum with Salicylic Acid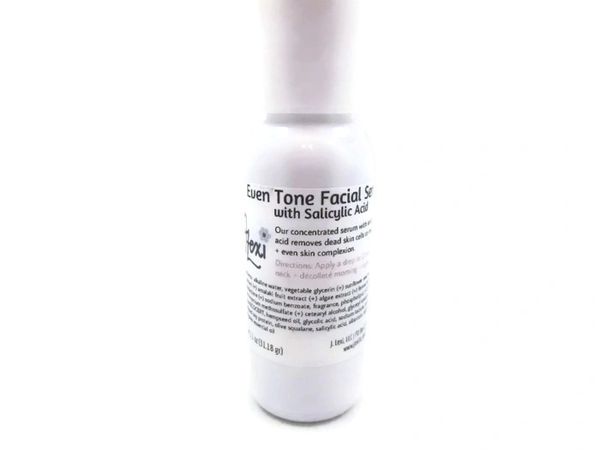 Even Tone Facial Serum with Salicylic Acid
************************************NEW + IMPROVED FORMULA***********************************

Even Tone Facial Serum with Salicylic Acid is an economical botanical + AHA/BHA moisturizer with Bi-Phasic Exfoliating action. The combination of Glycolic Acid + Salicylic Acid improve skin tone + clarity, while revitalizing the skin. Alpha + Beta Hydroxy Acids exfoliate the outer (dead) layer of skin also known as the corneocyte, to reveal a fresh + youthful complexion.  
I've improved my already fantastic formulation by adding Bacillus Ferment, a patented probiotic-derived topical personal care ingredient.  It is the first science-backed probiotic-derived personal care ingredient that has been shown to significantly improve the appearance of seven common signs of aging + fermented rice water to help reduce blemishes.  Also included in a glass pumped bottle are, Carrot Seed Oil + Rose Geranium. 

 Natural Glycolic Acid
 extracted from sugar cane, is a naturally occurring source of glycolic acid, the smallest of the alpha hydroxy acids, which are well known for their ability to penetrate the skin to;  even out skin tone, improve the skin's texture, and minimize scarring and spots, by helping to speed the removal of the top, dead, layer of skin to reveal fresher, younger, looking skin.  Of the alpha hydroxy acids Glycolic Acid is the most efficient due to its smaller size and deeper penetration. 

Algae Extract can help restore the glow of youthful skin by its enhanced cellular energy + improved vitality; encourages cellular regeneration.

Salicylic Acid helps to exfoliate skin + encourages cell turnover for a smoother complexion; reveals healthy + new skin; prevents pores from clogging by slowing the shedding of cells inside hair follicles, which helps prevent acne by breaking down whiteheads + blackheads; stimulates collagen + reduces the depth of wrinkles + mild signs of aging.

Hemp Seed Oil is used to achieve soft, smooth + hydrated skin; relieves acne, minor abrasions, psoriasis + eczema; prevents moisture loss; contains the ideal ratio of Omega 6 to Omega 3, based on our cells needs; closely matches our own skins lipids; is able to penetrate + lubricate inside our cells; has been proven to play a preventative role in skin aging + a healthy moisture balance; is also the only plant oil containing Vitamin D, which is necessary for Calcium absorption.


Amalaki Fruit Extract is a strong antioxidant; is a natural anti-inflammatory; stimulates cellular regeneration and detoxifies + rejuvenates.

* Sunburn Alert: This product contains an alpha hydroxy acid (AHA) that may increase your skin's sensitivity to the sun and particularly the possibility of sunburn. Use a sunscreen, wear protective clothing, and limit sun exposure while using this product and for a week afterwards.

100% holistically handmade.

Before using read the ingredient list for allergens + skin sensitivities; patch testing is suggested. 
For best results use one of our exfoliating soaps + Even Tone Polish with Salicylic Acid.
Ingredients: alkaline water, hemp seed oil, glycolic acid, fragrance, hydrolyzed baobab protein, sodium lactate, olive squalane, bacillus ferment, fermented rice water, vegetable glycerin, sunflower seed extract, willow leaf extract, amalaki fruit extract, algae extract, fennel fruit extract, gluconolactone + sodium benzoate, salicylic acid, phospholipid, d-panthenol, behentrimonium methosulfate, cetearyl alcohol, glyceryl stearate + PEG 100 stearate ECOCERT
net wt 1.15 oz (32.60 gr)
J. Lexi, LLC
Uncommon Beauty
For external use only.
Our products have not been reviewed by the FDA + are not intended for use in the diagnosis, cure, mitigation, treatment or prevention of disease.
Reviews
Featured Products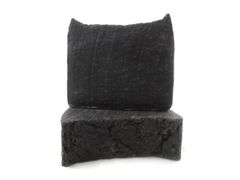 Chaga + Cacao
$15.00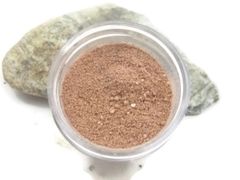 Adzuki Cleansing Grains
$15.00