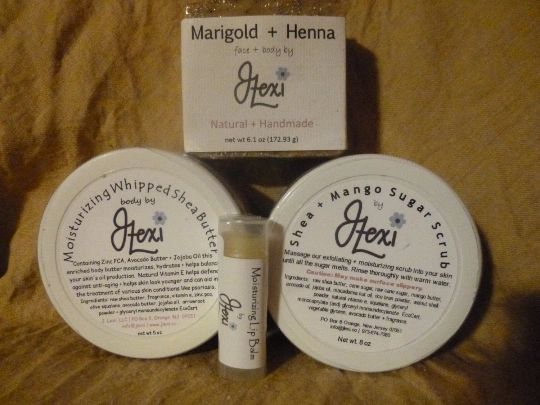 Winter Skin Survival Kit
If your skin is cracking, dry, chapped or dehydrated, you may need our Winter Skin Survival Kit! This kit is excellent to use if your skin is already perfect, too! This kit contains quality products to condition, exfoliate, hydrate + moisturize dry skin. These products may be suitable to feed + nourish skin that has received radiation or chemotherapy.
This skin-loving kit contains:
6 oz Marigold + Henna Conditioning Face + Body Bar,

8 oz Shea + Mango Raw Sugar Scrub,

5 oz Moisturizing Whipped Shea Butter, and

.17 oz Moisturizing Lip Balm

Marigold + Henna Conditioning Bar . . .
Using almost 75% extra virgin olive oil, Marigold + Henna is one of the most conditioning + fragrance-free bars I've made! To make is batch extra skin-loving, we've used marigold flowers + henna leaves in several ways and added 100% coconut cream to hydrate + moisturize.
Ingredients: extra virgin olive oil, distilled water, food-grade sodium hydroxide, coconut oil, castor oil, 100% coconut cream, palm oil, sodium lactate, palm kernel flakes, raw turbinado sugar, calcium bentonite clay, marigold flowers, henna leaves, lecithin + wild silk

Shea + Mango Raw Sugar Scrub . . .
Our gourmet Shea + Mango Sugar Scrub is luxurious, exfoliating, moisturizing + hydrating. This sugary treat will polish your skin + help reveal it's natural beauty.
Ingredients: unrefined shea butter, raw cane sugar, cane sugar, mango butter, avocado butter, avocado oil, fragrance, jojoba oil, macadamia nut oil, rice bran powder, natural vitamin e, walnut shell powder, squalane + natural preservative

Moisturizing Whipped Shea Butter . . .
Containing Zinc PCA, Avocado Oil + Jojoba Oil this enriched body butter moisturizes, hydrates + helps balance your skin's natural oil production. Natural Vitamin E helps defend against aging + helps skin look younger. This moisturizing butter can aid in the treatment of various skin conditions like psoriasis.
Ingredients: raw shea butter, vitamin e, zinc pca, olive squalane, avocado oil, jojoba oil, arrowroot powder, fragrance + glyceryl monocaprylate and glyceryl monoundecylenate EcoCert

Moisturizing Lip Balm . . .
Contains luxury moisturizing butters + quality oils to soften, condition + moisturize your lips. To exfoliate your lips, massage in a little of the Shea + Mango Raw Sugar Butter into lip before applying the lip balm.
Ingredients: beeswax, castor oil, avocado butter, virgin coconut cream oil, unrefined hemp seed oil, emu oil, kokum butter, unrefined shea butter, mango butter, raw wildflower honey, benzoin, essential oil blend, banana flavoring

100% handmade; Marigold + Henna is made using the cold process method.
Listing is for 1 of each item.

Before using read the ingredient list for allergens + skin sensitivities; patch testing is suggested.
Avoid getting in eyes.
If using on face, follow with a facial moisturizer including sunscreen.
J. Lexi, LLC
Uncommon Beauty
For external use only.
Our products have not been reviewed by the FDA + are not intended for use in the diagnosis, cure, mitigation, treatment or prevention of disease.
Reviews
Featured Products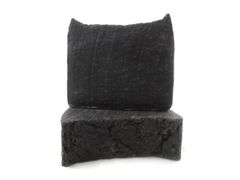 Chaga + Cacao
$15.00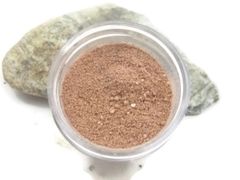 Adzuki Cleansing Grains
$15.00